window.scrollY || window.scrollY < 300 ){ navOpen = true; } else {navOpen = false; moreMenuOpen=false; openSubmenu=false;}; oldScrollPos = window.scrollY">
window.scrollY || window.scrollY < 200 || menuOpen ){ navVisible = true; } else {navVisible=false}; oldScrollPos = window.scrollY">
Tanks
Double Wall Mini Frac Tank
Double Wall Mini Frac Tank Provides Secondary Containment On-Site Fluid Storage with a Compact Footprint
Features
Built-in, full secondary containment for environmentally critical situations
OSHA-compliant fixed-front non-slip stairway, platform, and railing
Ladder tabs on rear of tank for safety
36″ & 22″ Combo side-entry ground-level manway allows access to tank interior
2-22″ manways top provide easy access
Rodless interior for safe and easy cleaning
Sloped bottoms for complete drain and enhanced safety during cleaning
Compact footprint (23′ x 8'6″) provides storage capacity on smaller worksites
Epoxy-lining enhances chemical resistance
Compact size enables two tanks to be delivered on one double-box roll-off trailer
Vapor-tight with pressure relief valve
Smooth interior walls for easy cleaning
"Tank within a tank" design allows interstitial area to be monitored for leaks while the outer tank contains any leakage
Usages
Storage of environmentally sensitive liquid and containment of vapors
Compliance with regulatory or operational requirements demanding full secondary containment
Also known as Small Double Wall Tank, or Mini Secondary Containment Tank.
Double Wall Mini Frac Tank Provides Secondary Containment On-Site Fluid Storage with a Compact Footprint
Features
Built-in, full secondary containment for environmentally critical situations
OSHA-compliant fixed-front non-slip stairway, platform, and railing
Ladder tabs on rear of tank for safety
36″ & 22″ Combo side-entry ground-level manway allows access to tank interior
2-22″ manways top provide easy access
Rodless interior for safe and easy cleaning
Sloped bottoms for complete drain and enhanced safety during cleaning
Compact footprint (23′ x 8'6″) provides storage capacity on smaller worksites
Epoxy-lining enhances chemical resistance
Compact size enables two tanks to be delivered on one double-box roll-off trailer
Vapor-tight with pressure relief valve
Smooth interior walls for easy cleaning
"Tank within a tank" design allows interstitial area to be monitored for leaks while the outer tank contains any leakage
Usages
Storage of environmentally sensitive liquid and containment of vapors
Compliance with regulatory or operational requirements demanding full secondary containment
Also known as Small Double Wall Tank, or Mini Secondary Containment Tank.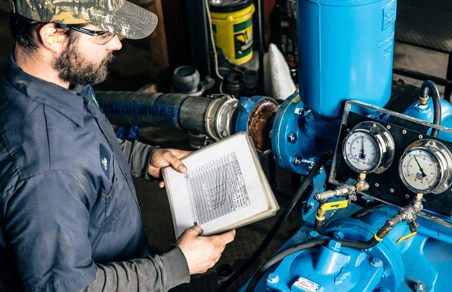 Your project deserves more than just the right equipment.
From system design and installation to maintenance and customized billing, our team of experts knows that there's more than spec sheets to consider when choosing an equipment vendor.
LEARN ABOUT THE E-PUMP ADVANTAGE
The Best Equipment Meets the Best Service in the Industry
Each piece of equipment in our inventory is backed by decades of experience, a rigorous inspection and maintenance protocol, and our industry leading customer service.
© 2020 E-Tank, Ltd. All rights reserved. |
Privacy Policy